Roll over image to zoom in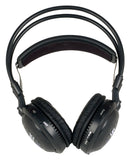 Description
VocoPro SilentSymphony-BAND Wireless Audio Broadcast & Headphone System
Overview
The SilentSymphony-Learn (Stereo Wireless Listening Center) from VocoPro features a STEREO three channel wireless transmitter, and SilentSymphony stereo multi-channel wireless headphones, that enable you to add static free stereo wireless audio capability to your classroom media player.Just connect the transmitter to any audio source such as a CD player, MP3 player, smartphone, tablet, or computer, and transmit quality stereo sound wirelessly to 10 listeners at a time. 
With 3 available frequencies, you can run up to 3 different audio programs simultaneously (Additional transmitters required). Connect an unlimited number of SilentSymphony Headphones with a single transmitter to meet the requirements of a bigger classroom. 
The SilentSymphony-Learn ships with an included padded carrying case.The SilentSymphony Wireless Transmitter sends high-quality stereo audio via 900 MHz (UHF) frequencies to SilentSymphony Headphones within an operating range of up to 300 feet. Connect the transmitter to any analog audio source by using a stereo RCA connection or 1/8" stereo mini plug. Synchronize the transmitter and headphones with the 3 switchable preset frequencies. 
The SilentSymphony-Learn is the only wireless listening center on the market that outputs a STEREO audio signal while operating in the 900MHz range to avoid TV and radio station interference.
Features:
1 SilentSymphony stereo wireless transmitter
10 SilentSymphony stereo wireless headphones1 BAG-HP10 headphone carrying bag
Operates in the 900MHz Frequency Band, Clear of TV Station Interference
Broadcast Audio to an Unlimited Number of Wireless Headphone Sets
Use up to 3 Transmitters Simultaneously
Internal Battery Built-In to Transmitter for Remote Use
Transmission Power Level Toggle (High/Low)
Available Stereo RCA Audio Input on transmitter
Headphones have an 18Hr Battery Life with Two AAA Batteries
Payment & Security
Your payment information is processed securely. We do not store credit card details nor have access to your credit card information.