Roll over image to zoom in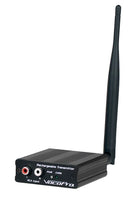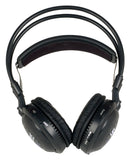 Description
VocoPro SilentSymphony-BAND Wireless Audio Broadcast & Headphone System
Overview
SilentSymphony-BAND is an all-in-one wireless headphone system. The transmitter can broadcast audio to wireless headphones within a 300ft. radius. 
The SilentSymphony can be applied to any situation where a performer or speaker needs to be heard by their audience without the typical amplifier and speaker setup. Simply connect the SilentSymphony transmitter to your audio source, like the main outputs on a mixer or the headphone jack on a smartphone, bands can practice loud without disturbing the others or host a karaoke party in the apartment without disturbing the neighbors. 
The applications for SilentSymphony are limitless. Each of the SilentSymphony headphone sets is powered by two AAA batteries that last approximately 18hrs.
Features:
Operates in the 900MHz, clear of TV Station Interference 
Broadcast Audio to an Unlimited Number of Wireless Headphone Sets 
Use up to 3 Transmitters Simultaneously 
Internal Battery Built Into Transmitter for Remote Use 
Transmission Power Level Toggle (High/Low) 
Available Stereo RCA Audio Input on transmitter 
Available Stereo 1/8" Audio Output on Each Wireless Headphone Set
Headphones have an 18Hr Battery Life Off Two AAA Batteries 
Connections: 1/8" Audio Output Rear Panel 
Connectors: Antenna, Power in, LR audio connectors on front panel
Payment & Security
Your payment information is processed securely. We do not store credit card details nor have access to your credit card information.