Roll over image to zoom in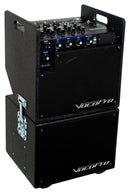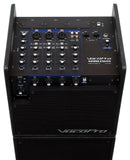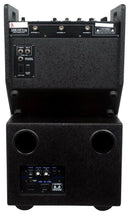 Description
VocoPro Battery Powered P.A. System with Subwoofer - Mobileman
Overview
Reinventing the Portable P.A. Most portable P.A. systems out there are good for only one thing: speech. But when in comes to handling music, they drop the ball. This is because they are seriously lacking in the bass department. We solved this problem by adding a subwoofer. In fact, the MOBILEMAN is the world's first battery-powered, portable P.A. system with a subwoofer. 
Because it is a VocoPro, singers will appreciate the on-board DSP effects that are designed especially for singing. Whether your next event is a school auditorium, coffee shop, or hotel ball room, take along a MOBILEMAN and get the job done right! 
Features: 
80W Power output MAX (total) : 40W power output MAX (head)
40W power output MAX (sub) 
Take anywhere with the portable battery-powered design with up to 4 hours run time* 
Subwoofer with LFE filter enables full-range tone and low-end punch 3 mic channels with XLR/1/4" combo jacks 
+48V phantom power with on/off switches on all mic channels for condenser microphone compatibility 
Stereo channel with 1/8" & L/R RCA inputs 
Independent tone, level and effect controls on all input channels 
DSP reverb, echo, delay and hiss filter effects with mono/stereo switch 
Stereo link jack for daisy chaining to additional MOBILEMAN main units 
3 UHF module expansion ports to add wireless mic channels** 
SDR-4 digital SD recorder expansion port to add digital audio recording**
Stereo XLR main output jacks for balanced connection to external devices
RCA L/R record out jacks 
1/4" subwoofer input enables subwoofer to be used separately 
1/4" headphone output with volume level control 
Separate on/off power switches for UHF and SDR-4 modules to conserve battery usage 
Power, low-battery and charge LED indicators for easy power status evaluation 
Side-mounted locking mechanisms safely secure the two units during use and transport 
Easy top-mounted handles for easy lifting and carrying 
Main unit can be placed flat on floor or 45-degree angle for optimal sound dispersion 
Main unit is speaker stand ready with mounting cup 
DC power jack for easy charging in an RV or on the road 
High-power amplifier for big sound, even outdoors 
Take anywhere with the portable battery-powered design 
Enjoy full-range tone and low-end punch with the subwoofer 
DSP effects designed especially for singing and spoken word 
Phantom power support for condenser microphones 
Wide array of inputs/outputs for microphones, MP3 players, and recorders
Main unit can be daisy chained to other MOBILEMANs for even bigger sound
Weight: HEAD 22 lbs 
Weight: SUB 20 lbs
Payment & Security
Your payment information is processed securely. We do not store credit card details nor have access to your credit card information.