Roll over image to zoom in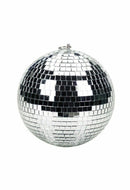 Description
Overview
No light show is complete without a mirror ball.
To heighten the event, our mirror balls' glass mirror tiles are smaller than those commonly used today.
Offers an increased number of reflective tiles for an equal size.
The smaller tiles are also more resistant to cracking.
Payment & Security
Your payment information is processed securely. We do not store credit card details nor have access to your credit card information.