Roll over image to zoom in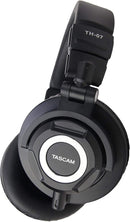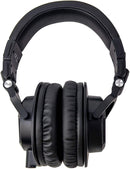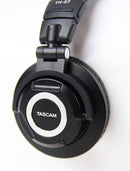 Description
Overview
TASCAM's TH-07 High Definition Headphone Monitors are premium over-ear monitors designed to deliver excellent sound and maximum comfort. Ideal for mixing, monitoring or simply enjoying your favorite albums, TASCAM TH-07 headphones provide a truly inspiring listening experience. Featuring a closed-back design for accurate bass response and excellent bleed rejection, TASCAM TH-07 headphones are the perfect solution for tracking, mixing or any other critical listening duty in the studio. Soft, comfortable earcups and a padded headband ensure a comfortable fit for extended periods - even for those who wear eyeglasses while the unique driver design provides an intimate high-fidelity listening experience.
Features:
10Hz to 30kHz frequency response
Sensitivity of 100 +3dB
50mm drivers housed in circumaural ear cups deliver a high resolution, comfortable listening experience and excellent sound isolation
Ear cups pivot and angle for versatile fit and comfort, and one-ear monitoring
Folding design and included carry bag make the TH-07 ideal for both field work and studio duty
Includes two detachable cables; short coiled design for close proximity and long straight cable for maximum proximity to audio device
Multi-connection 1/8″ or 1/4″ jack on straight cable; 1/8″ connector on coiled cable
Soft and pliable leatherette ear cups and head band for maximum comfort: even for long sessions
Gold plated connectors
Payment & Security
Your payment information is processed securely. We do not store credit card details nor have access to your credit card information.