Roll over image to zoom in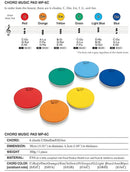 Description
Overview
Introducing the Suzuki MP-6C Six Piece Chord Pad Set, your gateway to immersive musical exploration and learning. This kit empowers you to naturally understand pitch and rhythm through play, fostering a deeper connection with the core elements of music.
The set features six pads, each representing different chords within the C major scale, composed of three individual chords. You can interact with these pads in a variety of ways, including stepping on them or riding over them, allowing for a full-body musical experience.
When pressure is applied to a pad, the air within is forced out, activating the internal reed to create a sound. This design not only produces a rich tone but also promotes a tactile and intuitive understanding of musical harmony.
Expand your creative possibilities further by pairing it with the Music Pad MP-8. This combination unlocks even more avenues of expression, fostering fulfilling and enriching musical activities.
Experience the freedom of an acoustic system that doesn't rely on any power source, allowing for uninhibited use in any setting. It's designed to seamlessly integrate into any environment, providing an adaptable tool for your musical journey.
Please be aware that this product is primarily designed for the Japanese market. Consequently, all interface languages and instructions are exclusively in Japanese and cannot be altered to other languages
Features
Six Interactive Pads: Experience music through six dynamic pads, each encapsulating different chords within the C major scale, further divided into three individual chords.
Kinesthetic Learning: Engage with the pads through various physical interactions, such as stepping or riding over them, encouraging a full-bodied musical expression.
Acoustic Mechanism: Powered by the simple mechanism of air pressure and internal reeds, each pad generates a rich tone upon pressure, offering a harmonious and acoustic sound production that connects you naturally to the rhythms of music.
Expandable Setup: Augment your creative prospects by integrating it with the Music Pad MP-8, opening up new dimensions of musical exploration and enjoyment.
Specifications
Scale: C Major
Components: Six pads, each comprising three individual chords
Power: Acoustic system, not reliant on any external power source
Language: Japanese (exclusively designed for the Japanese market)
Versatility and Convenience
Adaptable: Whether in a classroom, at home, or outdoors, the system harmonizes with any setting, offering a versatile tool in your musical journey.
Language Specifications: Note that this product caters primarily to the Japanese market, featuring instructions and interface exclusively in Japanese.
Payment & Security
Your payment information is processed securely. We do not store credit card details nor have access to your credit card information.