Roll over image to zoom in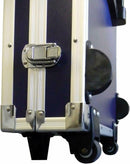 Description
Suzuki 3rd Octave Tonechime Add-On Set with Case - HB-120A
Overview
Expand the range of your 25 note set. 12 notes add 7 low bells and 5 high bells to make 3 full octaves. Includes heavy duty travel case with pull handle and wheels. Range C4 to F#4 and G#6 to C7. 
Innovative Precision crafted from fine lightweight aluminum, Suzuki ToneChimes have adjustable clapper heads for variable expression and overtone tuning for perfect harmonics. Beautiful, yet cost effective ways to share the music. 
Comfortable 
Only Suzuki ToneChimes feature tubular bells with rounded tone chambers.They're easy to hold and easy to play for extended periods. Involve Your Entire Class-Economically! Bring the beauty of handbell playing to your school, church or musical ensemble with Suzuki Tonechime Sets. Great sound at a great price! 
Convenient Suzuki ToneChime sets come packaged in unique protective cases, now with pull handle and wheels. So easy to move from room to room or building to building. The felt covered ToneChime table is both functional and beautiful. The perfect addition to any practice or performance.
Payment & Security
Your payment information is processed securely. We do not store credit card details nor have access to your credit card information.