Roll over image to zoom in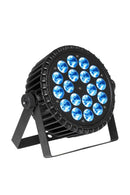 Description
Overview
Introducing the Stagg USA LT 18x10W(RVBWA)KINGPAR: The ultimate lighting solution for all your stage and entertainment needs. This state-of-the-art light fixture offers unparalleled versatility, durability, and performance, suitable for both professionals and enthusiasts alike.
Designed to dazzle, the LT 18x10W(RVBWA)KINGPAR incorporates RGBWA (Red, Green, Blue, White, Amber) technology, delivering a broad spectrum of vibrant colors to elevate any event. With 18 powerful 10W LEDs, you can count on this unit to light up your space with dynamic, eye-catching visual effects.
Features
Superior Color Mixing: Advanced RGBWA technology ensures true-to-life color representation.
Exceptional Brightness: 18 robust 10W LEDs provide outstanding illumination.
Easy-to-Use: User-friendly interface allows for effortless operation and control.
Versatile: Ideal for stage performances, DJ events, weddings, parties, and much more.
Built to Last: Engineered with high-quality materials to ensure durability and longevity.
Payment & Security
Your payment information is processed securely. We do not store credit card details nor have access to your credit card information.