Roll over image to zoom in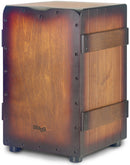 Description
Overview
With low-end punch, snare-like top-end slap, and well-rounded tones, the Crate Cajón delivers those classic flamenco rhythms with style. Featuring a rustic look and vintage feel, this impressive instrument is perfect for beginners or passionate percussionists.
 
Features:
Body: 7 layers of plywood birch, 9 mm (0.35")
Back: 5 layers of plywood birch, 7 mm (0.28")
Front board: 3 layers of plywood birch, 3 mm (0.12")
Feet: Anti-skid rubber
Strings: 2 pairs, adjustable, mounted in V-pattern
Feature: Ergonomic side and front edges, vintage crate design
Included: Tuning key
Size: 12.6 x 12.2 x 18.9"
Net weight: 11 lb
Finish: Sunburst brown
Payment & Security
Your payment information is processed securely. We do not store credit card details nor have access to your credit card information.