Roll over image to zoom in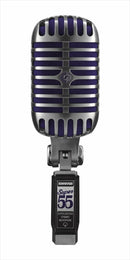 Description
Shure Super 55 Deluxe Classic Vocal Microphone
Iconic chrome-plated design with vibrant blue color additions
Tailored frequency response for natural vocals and speech
High gain-before-feedback and excellent off-axis rejection
Self-tensioning swivel mount, permits tilting through 45 degrees forward and 80 degrees backward
Shock-mounted cartridge minimizes handling noise and ensures quiet operation
Shure Super 55 Deluxe Vocal Microphone (Chrome)
The Super 55 features the vintage design of the original iconic vocal microphone with a frequency response tailored for natural-sounding vocals and speech.
Description
The combination of updates make the Super 55 the ideal choice when looking for a dramatic - yet affordable - improvement in sound quality with an unmistakable vintage design. Ideal for stage, studio recording, podcasting, and other sound applications where a stand-mounted microphone with a classic look is desired.
Details
The Super 55 Deluxe Vocal Microphone features a signature satin chrome-plated die-cast casing, Supercardioid polar pattern, vibrant blue foam, and tailored frequency response for natural vocals and speech. Integrated, swivel stand mount is included.
Features:
Stand-mounted microphone for live and studio vocal applications
Dynamic cartridge with supercardioid polar pattern
Satin chrome-plated die-cast casing and vibrant blue foam
Includes Super 55 with integrated swivel stand mount, zippered storage bag, and user guide
Iconic chrome-plated design with vibrant blue color additions
Tailored frequency response for natural vocals and speech
High gain-before-feedback and excellent off-axis rejection
Shock-mounted cartridge minimizes handling noise and ensures quiet operation
Rugged die cast casing for reliability under rigorous conditions
Self-tensioning swivel mount, permits tilting through 45 degrees forward and 80 degrees backward
Payment & Security
Your payment information is processed securely. We do not store credit card details nor have access to your credit card information.