Roll over image to zoom in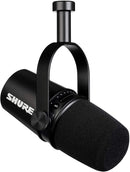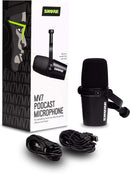 Description
Overview
Inspired by the legendary SM7B, the MV7 is a dynamic microphone with both USB and XLR outputs for use with computers and professional interfaces alike. Connect via USB and explore additional set-up features and Auto Level Mode within our ShurePlus™ MOTIV app, to control your vocal tone, and distance from the microphone. With Auto Level Mode, you can let the microphone do the work for you.   HOW IT WORKS We get it, not everybody is lucky enough to record in sound-treated studio, so the MV7 is equipped with Voice Isolation Technology so it's laser-focused on your voice to give you a professional recording, without any background or room noise. Once recording, use the built-in 3.5mm headphone jack to monitor your sound and adjust mic gain, headphone volume, monitor mix and more using the built-in touch panel.
Don't let the USB connection fool you; the MV7 is a professional dynamic microphone that is compatible with all professional interfaces via XLR if you're recording in the studio.
WHY IT'S BETTER
Let Your Microphone Do The Work For You
If connected via USB, download our free ShurePlus™ MOTIV app for desktop, which gives you access to additional features on your MV7. Activate Auto Level Mode, select your preferred voice tone and distance from the microphone, and let the microphone adjust your level in real time for a consistent output, no matter if you're recording or live streaming. Choose Manual Mode to have full control over your sound and adjust Mic Gain, Monitor Mix, EQ, Limiter, Compressor and more. With your level being constantly adjusted by the microphone to keep your sound consistent, you can spend more time creating, and less time editing. Let your microphone do the work for you.   
QUALITY THAT'S IN THE DETAILS
 Voice Isolation Technology
The MV7's unique pick-up pattern keeps it laser-focused on your voice and prevents any unwanted background or room noise from interrupting your recording. Integration With ShurePlus™ MOTIV Apps Leave nothing to chance; configure and set up the microphone using the ShurePlus™ MOTIV app so that it's best suited for you. Choose from Auto Level Mode if you want a 'set it and forget it' microphone, or Manual Mode if you want to get more hands-on with the features.   Customizable Sound Signature Choose your sound and pick your voice tone from either 'dark', 'natural' or 'bright' within the ShurePlus™ MOTIV app. You can now get that deep 'radio' sound you've always wanted. Optimized Mic Position Presets   Whether you're a podcaster that likes to get up close and personal with the microphone, or a streamer that likes a bit more breathing space, you can select from 'near' or 'far' depending on your preference.   Built-in Headphone Monitoring Ensure that you are getting perfect audio at all times with the direct headphone monitoring output and adjust your preferred monitor mix between microphone and playback on the built-in touch panel or ShurePlus™ MOTIV app.
Features:
USB OR XLR CONNECTIONS: Dual USB/XLR output allows digital or analog recording 
CLOSE MIC APPLICATIONS: Great for podcasting, recording, live streaming, and more 
INTUITIVE TOUCH PANEL CONTROLS: Intuitive touch panel for control over gain, monitoring volume, headphone mix, and mic muting 
BUILT-IN HEADPHONE OUTPUT: The Built-in headphone output allows for direct headphone monitoring while recording 
RICH & NATURAL VOCAL REPRODUCTION: Optimized frequency response for rich and natural vocal reproduction ShurePlus 
MOTIV DESKTOP APPLICATION: Provides access to audio processing, Auto-Level Mode automatically adjusts gain and compression settings, switchable EQ filters to adjust audio tone color & options to save custom user presets 
ALL-METAL CONSTRUCTION: Rugged & professional all-metal construction provides outstanding reliability 
FLEXIBLE PLACEMENT OPTIONS: Adjustable integrated yoke for easy positioning on standard 5/8"-27 threaded stands or booms 
WHAT'S IN THE BOX? 
Shure MOTIV MV7 Podcast Microphone
10 ft (3m) USB-A cable
10 ft (3m) USB-C cable
Payment & Security
Your payment information is processed securely. We do not store credit card details nor have access to your credit card information.