Roll over image to zoom in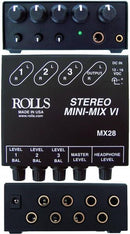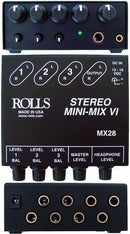 Description
Overview
The MX28 is a three-channel true stereo line mixer. Each channel has an individual 1/4" input for the right and left sides, and the outputs are individual right and left 1/4" jacks. Each channel has a level and pan (balance) control. The Master Level controls the output volume and the Headphone Level controls the level to the two headphone outputs.
Specs:
Input Impedance: 10K Ohms 
Output Impedance: 100 Ohms 
Max Gain: +27 dBV 
Max Input Level: +30 dBV 
Max Output Level: +13 dB 
Frequency Response: 20Hz - 20kHz +/- 1 dBV THD + 
Noise: <.005% 
Power: 12 VDC 150 mA adapter (center negative) 
Size: 4.25" x 1.75" x 4.5" (WxHxD) 
Weight: 1.2 lbs. 
3: Stereo 1/4" Stereo Inputs 
True stereo 1/4" outputs, unbalanced 
Two Headphone Outs (1/4" and 3.5mm) 
Pan control for each channel
Payment & Security
Your payment information is processed securely. We do not store credit card details nor have access to your credit card information.