Roll over image to zoom in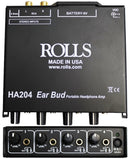 Description
Rolls Portable Battery Operated Headphone Amp - HA204p
Overview
The HA204p is a full frequency response, four channel headphone monitoring device designed for the recording studio, or other professional applications. Each output boasts a whopping 20 dB of clean channel gain.
Specs:
Input Impedance: 47k Ohms 
Max Input Level: +13 dBV adapter, +8 dBV 
Battery Input Connectors: TRS Stereo 1/8", Dual RCA 
Outputs: 4 - TRS Stereo 1/8" (3.5mm) 
Output Impedance: 10 Ohms each output
 Max Gain: 20 dB/Channel 
S/N Ratio: >90 dB THD: < .008% IMD (SMPTE): <.008% 
Nominal Current Draw: 30 Mills Min./ 400 Mills Max. 
Expected Battery Life: 8 Hours Continuos use 
Frequency Response: 15-35K Hz. 
Recommended Headphone Impedance: 16 to 500 Ohms. 
Power: 15 VDC (Rolls Model PS27s) 
Weight: .85 lb Size: 4.5" x 1.125" x 4.5"
Stereo 1/8" and Dual RCA Inputs 
Rotary Volume controls 
AC adapter included
15-35k Hz frequency response Lots of output level.... it's loud! 
9V battery Operated
Payment & Security
Your payment information is processed securely. We do not store credit card details nor have access to your credit card information.