Roll over image to zoom in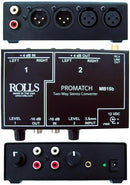 Description
Overview
Introducing the MB15 ProMatch - Your Ultimate Audio Signal Converter!
Experience seamless signal conversion with the MB15 ProMatch, a high-quality device designed to bridge the gap between consumer-level stereo RCA signals and balanced XLR professional line level, and vice versa. This versatile unit features two sides, each clearly labeled for easy operation.
On Side 1, you′ll find two XLR inputs and stereo RCA outputs, allowing you to effortlessly convert balanced XLR signals to consumer-level RCA for various audio devices. On the other hand, Side 2 boasts stereo RCA inputs and two XLR outputs, enabling you to convert RCA signals to professional line level for professional audio equipment.
Taking control of your audio experience is a breeze, as each side comes equipped with stereo level controls. Additionally, an LED indicator ensures you know when the unit is powered on, adding a touch of convenience to your audio setup.
The MB15 ProMatch goes above and beyond by doubling as a balanced XLR line level control. By utilizing a stereo pair jumper between the four RCA jacks, you can easily connect ins to outs, integrating the two Level controls into any balanced XLR line. This innovative feature further enhances the unit′s versatility, allowing you to tailor your audio levels to perfection.
Embrace professional audio conversion and unmatched convenience with the MB15 ProMatch. Whether you′re a music enthusiast or a seasoned audio professional, this device is sure to elevate your audio signals to new heights.
Specifications
Max Out:
Balanced: +18 dB
Unbalanced: +12 dB
Max In:
Balanced: +22 dB
Unbalanced: +22 dB
Input Impedance:
RCA: 100k Ohm
XLR: 10 k Ohm
1/8" stereo: 10k Ohm
Output Impedance:
RCA: 100 Ohm
XLR: 100 Ohm balanced
Frequency Response: 20Hz - 20KHz 0 /-1dB
Noise Floor: -88 dB
Gain:
+4 dB In: -8 dB
-10 dB In: + 20 dB
THD: 0.003%
Power: 9 - 15 VDC adapter (center negative)
Size: 4.15" x 2.46" x 1.55"
Weight: 1 lbs. (0.45 Kg)
Current drain: 16ma nominal no load 15vdc
Stereo Direct Box
Stereo RCA to stereo XLR
Stereo Level control for each channel
Works as stereo balanced line level control
1/8" Headphone level to line level adaptor
Payment & Security
Your payment information is processed securely. We do not store credit card details nor have access to your credit card information.