Roll over image to zoom in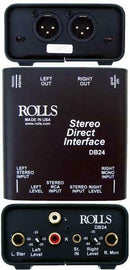 Description
Rolls DB24 Passive Stereo Direct Interface Box
Overview
Introducing the new DB24 Stereo Direct Interface. This unit is a two channel isolation device designed to connect high impedance devices to low impedance. The unit is completely passive, and utilizes Rolls proprietary audio transformers for superior sound. A heavy duty steel chassis was chosen to provide maximum reliability when used in demanding live sound reinforcement applications. 
A variety of inputs are provided including stereo and mono 1/4", stereo RCA, and stereo 1/8" (3.5mm). The DB24 is an ideal impedance matching device for connecting any unbalanced stereo signal to a balanced system. Consumer audio equipment such as CD players, DVD players, MP3 players, etc., may be easily connected to a professional audio system. 
Features:
Completely passive uses no external power
Stereo RCA, 1/8" (3.5mm), and dual 1/4 Inputs
Balanced XLR Outputs
Ground Lift for each channel
Individual variable attenuators 
Specs:
50K ohm input impedance
600 ohm output impedance
20 - 20K Hz Frequency response
Stereo/DualMono switch
Ground lift switch
Gold plated jacks
Compact Powder coat Steel Case
Payment & Security
Your payment information is processed securely. We do not store credit card details nor have access to your credit card information.