Roll over image to zoom in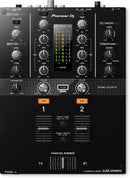 Description
Overview
The DJM-250MK2 has inherited some of the professional features of the popular DJM-900NXS2, such as the Magvel crossfader and Sound Color FX filter. Straightforward controls, a clear layout, and dedicated 3-band isolators let you scratch and mix instinctively.
The dithering technology on this mixer results in warm, high-quality audio from both analogue and digital sources. Plus its built-in sound card lets you connect the mixer to your PC/Mac and use rekordbox to perform with CDJs. Or hook up the DJM-250MK2 to turntables and use rekordbox in combination with our control vinyl to scratch and mix with digital files stored on your computer.
Clear Layout & Magvel faders
The clear layout of the DJM-250MK2's lower half gives you freedom to perform complicated scratch techniques. Our robust Magvel Faders ensure smooth control over long-term use. 2 metal shafts support the fader knobs, while the contact-free magnetic system is designed to endure millions of movements.

Smooth Mixing
Precise, fluid mixes are a breeze using the mixer's channel faders, and the 3-band isolators give precision across the highs, mids and lows. You can use them to totally eliminate each frequency range when you turn the knob all the way to the left.

Flagship Filter FX
Each channel comes with its own dedicated Sound Color FX filter, a feature inherited from the DJM-900NXS2 mixer. Simply turn the knob on each channel to apply the filter, Twist the parameter knob for texture, playing with resonance and tension.

Built in USB Sound Card
Connect the DJM-250MK2 to your PC/Mac using a single USB cable. The USB connection supports sound input and output, so you can record your mixes to your computer's hard drive.

Performance features
Unlock rekordbox performance features by simply connecting the unit to your PC/Mac. And, if you subscribe to the Creative plan, use Cloud Library Sync for seamless library management across multiple devices, and easily make custom versions of tracks in Edit mode.

DVS control
Make full use of rekordbox's low-latency DVS control for intuitive, smooth scratching.
Specifications
Frequency Range: 20 - 20000 Hz
Sampling Rate: 48 kHz
Width: 9.06 in
Height: 4.25 in
Depth: 12.6 in
Power Supply: AC adaptor (DC 12 V)
A/D Converter: 24 bit
D/A Converter: 24 bit
S/N Ratio Line: 94 dB
Distortion: < 0.005% (LINE)
Channels: EQ/ISO - 3 band
EQ/ISO Range: -∞ ~ +6 dB
Performance Control Channels: 2
Sound Color FX: Filter
Inputs: 3 LINE (RCA), 2 PHONO (RCA), 1 MIC (1/4 inch TS Jack)
Outputs: 1 MASTER (XLR), 1 MASTER (RCA), 2 HEADPHONE MONITOR (1/4 inch Jack, mini-jack)
USB: 1 USB B port
Payment & Security
Your payment information is processed securely. We do not store credit card details nor have access to your credit card information.