Roll over image to zoom in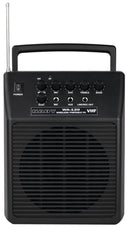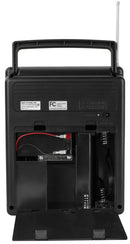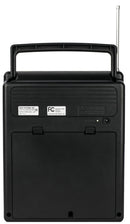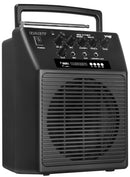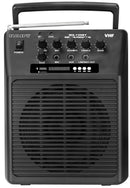 Description
Overview
The WA-120BT is the most affordable and compact of the popular line of Nady wireless P.A.'s. Ideal for many applications, including use in classrooms, conference/ meeting rooms, churches, yoga and health clubs and small auditoriums, it is powerful, yet lightweight and easily portable. We are sure you will find this versatile system a powerful and useful tool for your presentations.
The Nady WA-120BT includes a full-range speaker system with Bluetooth enabled built-in amplifier, mp3 player, mixer, built-in high quality quartz-locked, fixed frequency VHF wireless receiver precisely matched to the Nady WHT-120 sleek tapered handheld microphone that features a high quality dynamic cartridge for optimum true sound, maximum feedback rejection and minimal handling noise.   
Small and lightweight (only 8.3" x 10.6" x 5.4") and 5.3 lbs, the WA-120 BT can be mounted on the optional MST-4B aluminum tripod stand for convenient placement in a higher position. Powered externally with provided Universal Voltage 110V-240V AC adapter, or internally with included RB-120 rechargeable battery the WA-120BT can also be powered internally with (8x) "D" cell batteries.
(Note: The WA-120BT does not recharge "D" cell batteries.)
Specifications:
Inputs: Wireless Mic, Hardwired Mic and AUX line inputs
Tone Control Range Treble: ±6dB at 10kHz Bass: ±6dB at 100 Hz 775mV at 1kΩ
Line/Rec Output Level: 775mV @ kΩ
Wireless Operating Frequency Range: 170-216MHz, FM (3E)
Wireless Operating Distance: 100 ft. typical, up to 200 ft. line of sight 
Dimension: 8.3" x 10.6" x 5.4"
Weight: 5.3 lbs. (2.4 kg.) 
Built-in amplifier 
Bluetooth MP3 player 
Mixer
Handheld wireless microphone
Payment & Security
Your payment information is processed securely. We do not store credit card details nor have access to your credit card information.