Roll over image to zoom in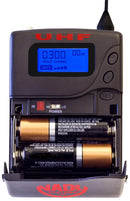 Description
Overview
This reliable, road-ready system with tough all-metal casing features automatic scanning of 1,000 UHF channels, so finding usable, interference-free frequencies takes only seconds, and transmitter synchronization happens in a flash – literally. With true Diversity, A dual antenna design that maximizes range and eliminates dropouts, and two types of output connections (XLR or ¼" to connect to your equipment) The 8w-1ku delivers the clearest, most natural sound available in wireless today.
The 1U rack-mountable receiver fits in a standard 19" rack, and the antennas can either be mounted in the back of the unit, or on the front panel using the included extender cables for best range and minimal interference. so, wherever you are, no matter how unpredictable the airwaves around you, when it's time to capture the moment, the Nady 8w-1ku has you covered.
Two independent wireless receivers in one enclosure for simultaneous operation of two transmitters. Unsurpassed performance with 120dB dynamic range. True Diversity circuitry for worry-free operation and dropout protection. Up to 500' range 1000 selectable UHF frequencies per transmitter for interference-free reception with auto-scan feature for easy location of clear channels and asc (Auto-Sync channel) Infrared download for easy frequency synchronization Rack-mountable receiver with 8 balanced XLR microphone level and 1 unbalanced ¼" mixed line level audio outputs. Backlit LCD with user-friendly configuration menus indicating frequency, volume, and RF signal strength All-metal body body pack transmitters with IC-2U Guitar Cable. Lcd display indicates group, channel, audio level, and Battery level status. Operation with two AA batteries
Specifications:
Overall system operating frequency range: 520.0-544.9 MHz 
pll system frequency stability:8w-1ku 
Octo receiver receiver system: dual conversion super heterodyne with true Diversity 
Sensitivity: -107dbm
audio output level (@ 25 kHz deviation): ¼" 
unbalanced: 360mV adjustable 
XLR balanced: 24mV fixed 
bt-1ku lt body pack transmitter output power: Hi: +14dBm (25mW typical), low: +4dBm (2. 5mW typical) 
Input connector: 3. 5mm TS jack with locking nut hm-10 
headset microphone element: back electret condenser 
polar pattern: Omnidirectional> 
sensitivity: -42dB 3dB. 
This system is fully compliant with the most up-to-date FCC regulations and operates on 520. 0-544. 9MHz frequency bands which are comprehensively available for unlicensed wireless microphone use throughout the Continental United States 
Payment & Security
Your payment information is processed securely. We do not store credit card details nor have access to your credit card information.