Roll over image to zoom in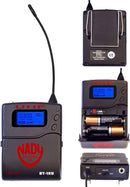 Description
Overview
Professional full-featured 1, 000-channel UHF wireless system for the most demanding applications> with the Nady 2w-1ku, you'll get the same exceptional sound quality Every time, anywhere you take it. this reliable, road-ready system with tough all-metal casing features automatic scanning of 1, 000 UHF channels, so finding usable, interference-free frequencies takes only seconds, and transmitter synchronization happens in a flash – literally. With true Diversity, A dual antenna design that maximizes range and eliminates dropouts, and two types of output connections (XLR or ¼" to connect to your equipment) The 2w-1ku delivers the clearest, most natural sound available in wireless today. The 1U rack-mountable receiver fits in a standard 19" rack, and the antennas can either be mounted in the back of the unit, or on the front panel using the included extender cables for best range and minimal interference. so, wherever you are, no matter how unpredictable the airwaves around you, when it's time to capture the moment, the Nady 2w-1ku got you covered.
Two independent wireless receivers in one enclosure for simultaneous operation of two transmitters. 
Unsurpassed performance with 120dB dynamic range. 
True Diversity circuitry for worry-free operation and dropout protection. 
Up to 500' range 1000 selectable UHF frequencies per transmitter for interference-free reception with auto-scan feature for easy location of clear channels and asc (Auto-Sync channel) 
Infrared download for easy frequency synchronization 
Rack-mountable receiver with 5 segment LED bar graph 
AF meters, 2 balanced XLR microphone level and 1 unbalanced ¼" mixed line level audio outputs. 
Backlit LCD with user-friendly configuration menus indicating frequency, volume, and RF signal strength 
All-metal body body pack transmitter with the Nady lm-14/O omnidirectional lapel microphone. 
Lcd display indicates group, channel, audio level, and Battery level status. 
Operation with two AA batteries
Nady Systems is dedicated to providing the best user experience possible. Since 1976 Nady has been a US based brand, with a US based customer service center, and with US valid product warranties
Specifications:
Overall system operating frequency range: 510. 0Mhz-534. 9Mhz 
PLL system frequency Stability: 2w-1ku dual receivers 
Receiver System: dual conversion super heterodyne with true Diversity  Sensitivity: -107dBm 
Controls: up/down selects, set, IR sync, power on/off, mute level controls>  
Audio output Level (@ 25 kHz deviation): ¼" unbalanced: 360mV adjustable  XLR balanced: 24mV fixed bt-1ku lt body pack transmitter  
RF output power: Hi: +14dBm (25mW typical), low: +4dBm (2. 5mW typical).
This system is fully compliant with the most up-to-date FCC regulations and operates on 520. 0Mhz-544. 99MHz frequency bands which are comprehensively available for unlicensed wireless microphone use throughout the Continental United States
Payment & Security
Your payment information is processed securely. We do not store credit card details nor have access to your credit card information.