Roll over image to zoom in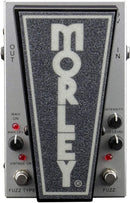 Description
Overview
Behold the mighty Power Fuzz Wah, one of the great Morley classics. The 20/20 version not only comes in a Pedalboard friendly size, but now has our acclaimed Switchless Activation. It offers our widest frequency sweep and when combined with its Fuzz circuit delivers monstrous Fuzz Wah tone that will send other Wah pedals into hiding.
Features:
One of the great Morley classics; Fuzz and Wah packed into one pedal 
Vintage Fuzz mode emulates that old-school ripped speaker sound that the original MPSA12 Transistors achieved
Modern Fuzz mode is tighter and more Guitar Distortion like 
Switchless Wah activation, simply step on to activate and step off to bypass 
Our acclaimed Optical circuitry that won't wear down or get scratchy over time 
New 20/20 Buffer circuit that prevents signal loss and maintains tone 
6.85″ x 4.5″ x 2.5″ (L x W x H) 
Powered by one 9-volt battery or optional Morley 9V adapter
Compatible with most 9V adapters Silent Switching, won't "pop" or bleed into audio signal when Fuzz and Fuzz type are engaged 
MQ2 custom Inductor, LED indication, cold-rolled steel housing, quick clip battery door, glow-in-the-dark treadle grip/toe-end logo 
One-year warranty; Lifetime Warranty available with registration
Payment & Security
Your payment information is processed securely. We do not store credit card details nor have access to your credit card information.