Roll over image to zoom in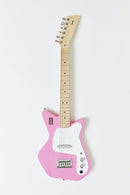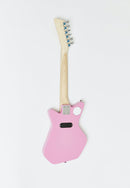 Description
Overview
A short-scale electric guitar with a built-in amp and speaker, bundled with an app that teaches you music through AR, and free lessons!
BUILT-IN AMP & SPEAKER
The new Loog electric guitars have a built-in amp. Yep. We managed to fit an amplifier and a speaker in there! And we did it in a quite subtle way: there's virtually no extra weight, no awkward knobs or controls and the classic Loog guitar silhouette stays unchanged.
HELLO ROCKST-AR!
The accompanying (and free) Loog Guitar app has a new AUGMENTED REALITY feature that allows you to learn guitar using the selfie camera! Just hold your Loog in front of the camera and the app will show you where to place your fingers to form chords and play songs. It's like having a magic mirror and your reflected image is already a rockstar!
MORE THAN JUST A GUITAR 
All Loog guitars come bundled with flashcards and an app that have everything you need to learn how to play guitar. We also host FREE live lessons via Zoom; these are thirty-minute sessions covering guitar basics, meant as a starting guide for kids who just got a Loog.
THE LOOG APP 
The Loog Guitar app has everything you need to play songs: video lessons, a tuner, and a digital songbook so you can learn by playing real songs (Beatles, Stones, Taylor Swift and more). It even has an AUGMENTED REALITY feature that allows you to learn guitar using the selfie camera!
REAL WOOD, REAL GUITAR. 
Loog guitars are small, fun and cute, but they are not a toy: they are real instruments, made out of real wood, that project a sweet, beautiful sound that's just unbelievable for a guitar of this size and price.
THE GIFT THAT KEEPS ON GIVING
Playing a musical instrument helps children benefit in almost every level: it enhances their cognitive skills while fostering creative thinking and their ability to focus. With Loog, kids are playing and having fun from the very beginning, acquiring skills that stay with them forever.
Specs:
Body: Paulownia 
Neck and fingerboard: Maple 
Number of Frets: 19 
Controls: Volume & Gain 
Scale: 22.9"
Length: 33.9"
Width: 10.8"
Depth: 2.5"
Weight: 4.4lbs
Number of Frets: 15
Payment & Security
Your payment information is processed securely. We do not store credit card details nor have access to your credit card information.