Roll over image to zoom in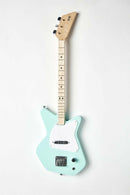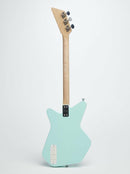 Description
Loog Pro 3-Stringed Solidbody Electric Guitar - Green
Bonus! - Includes guitar Strap!
Features:
New model with dramatically improved sound, intonation and playing action
New bridge, new pickup, new neck, new pickguard and new cutaway design
Fully assembled and ready to play
Includes flashcards with chord diagrams
PLAY YOUR FAVORITE SONGS. TODAY
With its slim 3-string neck, the Loog Pro makes it easy to form chords and play songs, even for little kids.
LEARN ON A LOOG. PLAY ANY GUITAR
The Loog Pro uses the first three strings of a guitar: same strings, same tuning. This is why everything you learn on a Loog can be applied on a 6-string guitar as well.THE LOOG APPDownload the free Loog app to tune your Loog and learn to play songs by The Beatles, The Rolling Stones, Taylor Swift, Bruno Mars and more.
YOUR COOLEST OTHER GUITAR
If you already play guitar, the Loog Pro can be a nice addition to your arsenal: tune it to Open A and use it as a riff machine or to play slide. Or simply let the constraint of having fewer strings unleash your creativity and take you to new musical places.
FAQS:
Should a beginner start with the acoustic model first and only then move to an Electric Loog?
Not really. In fact, some argue that it's easier to start with an electric guitar, because the strings are closer to the fretboard and that makes them more comfortable to play. We suggest going with whatever model you like best. 
So, if it's electric then I have to get an amp?
Short answer: No. The Electric Loog can be plugged to an amp just like any other electric guitar, and it will sound amazing. But an amp is not *needed* for the guitar to work. Unlike electronic keyboards, electric guitars do produce sound even when unplugged. In fact, that's how most of us play our electric guitars at home, even if we have an amp. 
SPECS
Body: Paulownia
Neck and fingerboard: Maple
Number of Frets: 18
Control: Volume
Scale: 20.4"
Length: 29.2" width: 100%;
Depth: 2.6"
Weight: 4.0lbs
WHAT'S IN THE BOX
Loog Pro Electric
Loog flashcards with chord diagrams
Loog Leather Slim Strap - Brown
No rocker who really deserves the title should refrain of playing standing up and this little strap will help all kids do just that. Manufactured in Canada by Levy's Leathers, this ¾" leather guitar strap a with 1¾" movable pad and buckle adjustment will add comfort and stablity to impromptu home concerts and its buckle adjustment (adjustable from 43" to 53") makes joining in possible even for adults. Best thing? It makes dropping the Loog while playing almost impossible.
¾" leather strap 
1¾ movable pad
Manufactured in Canada by Levy's Leathers
Buckle adjustment
Adjustable from 43" to 53"
Loog logo engraved in leather
Ships in 2-3 weeks
Recommended for the Electric Loog
Payment & Security
Your payment information is processed securely. We do not store credit card details nor have access to your credit card information.