Roll over image to zoom in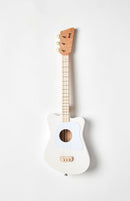 Description
Overview
This starter guitar kit is designed to make it fun and easy to play music. Loog Guitars only have 3 strings and a narrow neck, making it easier to form chords. And with the included Loog app, you'll be able to play your favorite songs right on day one. Loog Guitars use the first three strings of a guitar: same strings, same tuning. This is why finger placement and everything you learn on a Loog can be applied on a 6-string guitar, too. This kit includes app with video lessons, a tuner and a songbook so you can learn guitar by playing real songs by the Beatles, the Rolling Stones, Taylor Swift, Katy Perry, Bruno Mars and more.
As Easy As 1-2-3
Loog's slim neck is perfect for little kids' hands, and because it only has 3 strings, chords are reduced to the basic triad -just 3 notes-, allowing for an easier and faster learning process.
The Loog Guitar App 
Designed with kids in mind, the app is structured as a game in which little monsters help you form chords, those chords unlock songs, and those songs unlock new worlds of awesome.
Chord Flashcards
The Loog Mini comes with a deck of flashcards with chord diagrams. This is a simple but quite effective way of learning how to form chords on your Loog, or any guitar.   
SPECS
Body: Basswood 
Neck and fingerboard: Maple 
Strings: Nylon 
Number of Frets: 15 Scale: 15.6"
Length: 22.2"
Width: 6.9"
Depth: 2.3"
Weight: 2.2lbs
WHAT'S IN THE BOX 
Loog Mini guitar 
Loog flashcards with chord diagrams
Payment & Security
Your payment information is processed securely. We do not store credit card details nor have access to your credit card information.