Roll over image to zoom in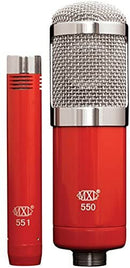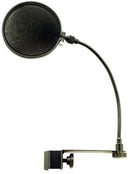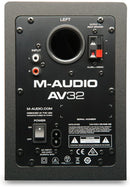 Description
Overview    
THE BIG BANG RECORDING BUNDLE!   
M-AUDIO COMPLETE  BUNDLE JAM PACKED WITH ESSENTIAL PRODUCTS FOR YOUR STUDIO!   
Includes:   
MK10 MICROPHONE STAND       
MXL PF-001 MIC POP FILTER   
MXL 550/551 RED MIC KIT     
MAUDIO M-AUDIO AV32 SPEAKERS 
MAUDIO M-TRACK C-SERIES 2X2 INTERFACE
AUDIO MC18 MIC CABLE (SINGLE)    
Audio M Track 2X2 | 2 In / 2 Out 24/192 USB Audio Interface   
With M-Audio's C-Series Interfaces, high quality signal capture has never been easier courtesy all-new, pro-grade 'Crystal' Preamps. Engineered from the ground up, Crystal Preamps provide you with a transparent, low-noise solution that assures to get the best out of your microphone and capture your performance the way it was intended to be heard - plus, the inclusion of a +48v Phantom Power Switch assures all microphone types are catered for, including the coveted sound of high-quality condenser mics.   
FEATURES 
24-bit/192kHz Resolution for Professional Recording and Monitoring 
Professional studio-quality recording in a portable desktop form factor 
Featuring All-New Crystal™ Preamps and Pristine D/A converters 
Capture every nuance and subtlety of your performance 
Elegant Pro-Grade Metal Chassis 
Large central control for easy volume adjustment 
Future-Proofed High-Speed, Zero Latency Recording 
Includes standard USB and USB-C connection cables 
Dedicated XLR+1/4" Combo Input for Mic/Line Sources 
+48V phantom power switch to accommodate all microphone types 
Dedicated 1/4" Instrument Input for Guitar or Bass 
Tailor-made gain and impedance stage for a pristine, accurate DI signal 
Stereo 1/4" Main Outputs; 1/4" Headphone Output With independent level controls   
General Specs 
Power: USB-bus-power 
Dimensions 6.0" x 2.8" x 7.8" 
Weight 2.0 lbs.   
Requirements Minimum System Requirements: Standard USB 2.0 or USB-C Port Windows: 7 (32 or 64 bit) OSX: 10.8    
 M-Audio AV32 | Compact Active Desktop Reference Monitor   
Listen like the pros and experience crystal-clear, defined sound by upgrading your standard factory desktop speakers. Perfect for gaming, watching movies or listening to your favorite song, M-Audio's AV32 monitors combine premium components and an attractive, style-driven design aesthetic that provides the ultimate solution for pro-grade sound. Compact, attractive and simple-to-install, M-Audio's AV32 desktop speakers have been meticulously designed for you to experience your media like never before, at a standard previously reserved for recording engineers, producers and media professionals.   
Premium sound reproduction: 3 inch polypropylene coated woofers produce tight, accurate bass and 1 inch ferrofluid cooled silk cone tweeters produce clear, pristine highs 10 watt per channel amplifier and optimage IV tweeter wave guides for punchy sound reproduction and superior imaging 
Versatile, conveniently located rca inputs for seamless connection to gaming systems, DJ gear, mixers and more 
Front panel 1/8 inch stereo auxiliary input for connecting your laptop, desktop computer, MP3 player or other audio sources with an 1/8 inch output 
Easily accessible front panel 1/8 inch headphone output for private listening Includes everything you need to install the system; 
1/8" cable, 1/8" to stereo rca cable, premium speaker wire and acoustic traction pads   
Features 3-inch polypropylene-coated woofers for tight, accurate bass 
1-inch ferrofluid-cooled silk cone tweeters for clear, pristine highs 
OptImage IV tweeter wave guides for superior imaging and detail 
10-watt per channel amplifier RCA inputs for connecting gaming systems, DJ gear, mixers, and more 
Front-panel 1/8-inch stereo auxiliary input for connecting your laptop or desktop computer, MP3 player, or other audio sources 
Front-panel 1/8-inch headphone output 
Front-panel volume control Acoustically-inert MDF cabinet with bass reflex design for deep, rich sound 
Attractive black vinyl laminate finish  
Specifications 
Type: Two-way desktop reference speaker 
Low-Frequency Driver: 3" diameter, polypropylene-coated, with high-temperature voice coil 
High-Frequency Driver: 1" diameter, silk cone tweeter 
Frequency Response: 80 Hz – 20 kHz 
Crossover Frequency: 3.3 kHz 
RMS SPL: 101.5 dB @ 1 meter 
Signal-To-Noise Ratio: > 90 dB (typical, A-weighted) 
Input Connectors: Left and right RCA line input and 1/8" aux input 
Polarity: Positive signal at "+" input produces outward low-frequency cone displacement 
Dynamic Power: 10 watts continuous, per channel into 4 Ω 
Input Impedance: 10 k Ω unbalanced 
Input Sensitivity: 100 mV pink noise input produces 90 dBA output SPL at 1 meter with volume control at maximum 
Protection: RF interference, output current limiting, over temperature, turn on/off transient, subsonic filter 
Indicator: Blue power LED for aligning wave guide 
Power Requirements: 100-120V/~50/60 Hz, 220-240V/~50/60 Hz; powered via detachable 2-conductor line cord 
Cabinet: Vinyl-laminated MDF 
Dimensions: 7.5" x 5.1" x 6.1" (19 cm x 13 cm x 15.6 cm) 
Weight: 5.6 lbs (2.55 kg)     
MXL 550/551R Microphone Kit   
This all-in-one Recording Ensemble delivers outstanding performance for both vocals and instruments. Ideal for quality-oriented but budget-mindful musicians, the MXL 550/551R Ensemble includes the MXL 550 and MXL 551. The MXL 550 is a robust vocal condenser microphone with exceptional clarity and tonal quality. The MXL 551 instrument microphone provides the dynamic range needed for acoustic guitars, drums, high-hat cymbals, pianos, percussion, stringed instruments and more.   
Features: 
Microphone pair that can cover all recording needs 
Perfect to use together—one for vocals, one for instruments 
Fine-tuned to deliver extra clarity and detail 
FET preamp with balanced output and low noise 
Distinctive design with a striking red body   
Specifications: 550 Type Pressure gradient condenser microphone 
Capsule Size 22mm/1.26 in. 
Frequency response 30Hz - 20kHz 
Polar pattern Cardioid Sensitivity 15mV/Pa 
Output Impedence 200 ohms 
Equivalent Noise 20 dB (A-weighted IEC 268-4) 
S/N Ratio 80 dB (Ref. 1Pa A-weighted) 
Max SPL for .5% THD 130 dB 
Power Requirements 48V phantom power (+/- 4V) 
Current Consumption <3.0mA Size 47mm x 170mm/1.85 in. x 6.69 in. Weight 0.8 lbs /362.87g 
Metal Finish Red with chrome grill   
Samson MK-10 Microphone Boom Stand   
The Samson MK10 Lightweight Microphone Boom Microphone Stand combines the crucial elements of lightweight durability with an attractive and functional design. This collapsible tripod base boom stand folds up easily for transport anywhere you need it. It also features a roadworthy, steel-constructed design that offers superior resiliency with great flexibility of positioning. Its sleek black finish ensures an elegant, yet inconspicuous presence. Packaged with a standard mic clip, the MK10 is perfect for any microphone application, especially in live and studio settings.   Lightweight microphone boom stand with tripod base Ideal for live and studio settings Roadworthy steel construction Sleek black finish Mic clip included   
Pro Tools First   FREE DOWNLOAD!* 
Want to make great sounding music? Start off right using many of the same tools the pros use-absolutely free.    Pro Tools ' First is simple enough for beginners, yet sophisticated for experienced musicians, enabling you to quickly compose, record, edit, and mix music. Entry to the industry's most trusted audio workstation has never been easier.   Play and practice your heart out New to making music? Pro Tools ' First is a great place to hang out, play, and practice your favorite instrument or improve your vocal abilities. Just connect your mic, keyboard, guitar, or other instrument to your computer-either directly or using a USB audio interface or cable adapter.   Choose from a selection of session templates, which provide preloaded instrument tracks, and start creating a song in a variety of music genres, including EDM, rock, pop, jazz, and hip-hop.   Record yourself with ease Whether you sing, play an instrument, or simply want to make some noise, Pro Tools ' First makes it easy to quickly turn the ideas in your head into fully realized songs.   Record up to 16 audio tracks, either one at a time through your computer's audio input, or up to four inputs simultaneously using a USB audio interface, making it easy to capture your vocal and guitar, multiple vocalists, or quick-n-dirty band jam session.   Use loop recording to capture multiple takes of a performance, so you can nail that perfect guitar solo or let your spontaneity rule.    Compose your own music No instrument? No problem. Create musical parts with virtual instruments (VIs), plug-in software that generates instrument sounds on your computer-anything from beats and loops, to guitars, bass, and more cowbell.   With the included Xpand!2 music synthesizer, you have an incredible range of instruments at your fingertips-from acoustic pianos, strings, brass, percussion, and woodwinds, to electronic synths, guitars, drums, basses, sound effects, and more. Use the MIDI Editor to write and edit notes, perfect virtual instrument performances, and modify how loud and soft notes play to give your music more dynamics and emotion across up to 16 instrument and 16 MIDI tracks.   With Elastic Pitch and Elastic Time, you can make bum notes sound pitch perfect and fix timing inconsistencies-without sounding like a chipmunk... or Sylvester Stallone.    Enhance your sound Whether you want to perfect your musical masterpiece, create a remix, or clean up audio tracks, Pro Tools ' First comes with over 20 effects, sound processors, and utility plug-ins to get you started. Shape sounds, warm up tones, give tracks greater presence, and optimize your mix with EQ III and Dynamics III, two plug-in suites that are coveted in top recording studios worldwide.   Bring atmosphere and texture to your tracks and mix, from creating spacious halls or intimate rooms with D-Verb, to generating long delay loops or punchy arpeggios with Mod Delay III. Want more virtual instruments, effects, or even guitar stompbox modelers? Visit the in-app Marketplace and discover a world of super affordable plug-ins that make creating and enhancing sounds quick and easy.    Access projects everywhere Forget having to lug your laptop or USB drive around. Pro Tools ' First saves projects securely in the cloud, enabling you to work on your music practically anywhere.    Pro Tools ' First comes with an introductory amount of free cloud storage, enabling you to save and sync up to three projects at a time, so you can always pick up where you last left off-on any Mac or PC with Pro Tools ' First installed.    Pro Tools ' First will support the upcoming Avid Cloud Collaboration for Pro Tools features, so get ready to connect and collaborate with other musicians, producers, engineers, and mixers-anywhere in the world-as if you're all working together in the same studio.
This Bundle Is In Limited Supply! Grab Yours Today And Start Recording Like A Pro!  
Payment & Security
Your payment information is processed securely. We do not store credit card details nor have access to your credit card information.