Roll over image to zoom in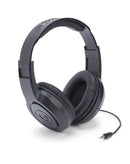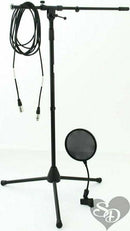 Description
Now Available The Big Bang Recording Bundle! AudioBox USB 96 + Mackie CR3-X Studio Monitors Complete Bundle Jam Packed With Great Product For Your Studio! At An Untouchable Price!
Includes:
AudioBox USB 96 2.2 USB 2.0 Recording System
MS1813 Studio Condenser Microphone

Samson Studio Over-Ear Headphones - SR350

Mackie CR3-X Active Studio Monitors 
STUDIO BOOM MIC STAND
6 INCH BLACK POP SCREEN WITH GOOSENECK
20' XLR MIC CABLE
Free Desktop Mic Stand
Professional ABS Composite Shock Mount
Bonus! 
PreSonus Software Library Bundle Included!
Studio One Artist Creative Music Production Environment
Studio Magic Plug-in Suite
Plus!
Overview
PreSonus AudioBox USB 96 2x2 USB Audio Interface
Whether you are a musician, producer, or podcaster on a tight budget, the AudioBox USB 96 is for you! This simple, handy little recording interface has just the right features for basic recording needs, allowing you to plug in and start recording up to 24-bit, 96 kHz audio right away. Bus-powered and built to travel, the AudioBox USB 96 makes recording easy.
The two front-panel combo mic/instrument inputs make it ideal for singer/songwriters, podcasters, and guitar or guitar-bass collaborations. Simply connect a couple of mics and you have an easy-to-use stereo recording system. A mix control lets you control the level between the input signal and computer playback, without hearing annoying delays. You also get a pair of balanced line-level outputs, an ultra-loud, crystal-clear headphone out, plus MIDI I/O, so you can connect your favorite synth or MIDI controller. The result is a simple, affordable, mobile recording solution.
Features
2 dual-purpose front-panel input channels, each with high-quality mic preamplifiers
2 combo mic/instrument inputs
Individual channel-trim controls with 0 to +35 dBu mic gain range
48V phantom power for condenser microphones
Mixer control (blends the input signal with the computer playback stream for zero-latency monitoring)
Headphone jack with level control
Main-output level control
LED clip indicator for each channel
Input/Output
1 USB 2.0 port
2 combo XLR/¼" mic/instrument inputs
2 balanced ¼" main (L/R) line outputs
1 stereo ¼" headphone output
MIDI in/out
Digitalia
24-bit resolution and 44.1, 48, 88.2, and 96 kHz sampling rate
Professional-grade A/D/A converters (+105 dBu dynamic range)
Zero-latency monitoring via internal mixer
Compatible with most Mac® and Windows® recording software
Included Software
Studio One® Artist
Studio Magic Plug-in Suite
Physical
1/3U rack-mountable (with optional 3UMR rack-mounting system)
Road-rugged construction with all-metal chassis and metal knobs
Weighs just 5 lbs (2.3 kg)
Powered via USB bus-no wall wart!
MS1813 Studio Condenser Microphone
Wide frequency: the response makes it a perfect microphone for recording voices, acoustic guitars, acoustic pianos and even strings, since the capacitor can take an accurate snapshot and capture all the subtleties and nuances inherent in these instruments. Excellent in both voices and instruments.
Low noise level: with a high signal-to-noise ratio (SNR), which ensures that the recording process is less distorted, the exclusive 3-layer security system eliminates unwanted pop noises, providing singers with a smooth vocal sound without sound.
Sensitive capture: the microphone has a thin diaphragm or material "capsule" that vibrates and sends a signal when activated and hit by sound waves at the output, providing an extremely accurate and very precise representation of what is being played.
Plug and Play: you can easily connect the microphone to your device without additional driver software and without the need for an external sound card. The double shielding of the USB cable eliminates interference. This makes it easy for a podcast, live stream, video call or most other types of recording sound good.
Improve the quality of vocal recording: the podcast microphone gives you a clear and plosivity-free vocal output with a double-layer acoustic filter and windproof foam cover to prevent it from breaking.
All you need for Professional Broadcasting and Recording
1x Studio Vocal Cardioid Condenser Microphone
ABS Composite Shock Mount
Wind filter
Desktop Round Base stand
High Quality audio circuit design Plug and Play, Record, Broadcast and more
Dimensions (unit is on tripod stand):11.5 cm/4.52 inches WIDE x 33 cm/ 13 inches HEIGHT
Net weight: 1.6 lbs (0.75 kgs for the 5 pcs unit)
Mackie CR-X Series, 3-Inch Multimedia Monitors with Professional Studio-Quality Sound - Pair
Studio-Quality Sound for Everyone
CR Series Creative Reference Multimedia Monitors offer studio-quality sound with cosmetics that compliment any desk whether you're making music, creating content, or just relaxing to your favorite tunes. The sleek design of CR-X features a brushed metal panel and a distinct outline that stands out. Available in a vast range of sizes from 3" to 8" with Bluetooth option plus an 8" subwoofer with Bluetooth, CR-X has the perfect match for your needs. Upgrade your listening experience with Mackie CR-X Creative Reference Multimedia Monitors.
CR3-X 3" monitors feature a sleek design with a brushed-metal panel and distinct outline. Convenient front panel headphone out and volume control make daily use easy. Flexible rear panel inputs include balanced 1/4" TRS, 1/8" Stereo, and RCA. High-quality cables are included in the box to get you up and running quickly. Upgrade your listening experience with Mackie CR3-X monitors.
Home Studio
Mackie knows studio monitors, and every bit of that experience was poured into the CR-X Series. Excellent sound, affordable, and sleek looks make these perfect for small home recording studios.
Content Creators
Looking to make it big on the internet? You bring the talent, we've got the gear. What better place to start than your audio. An accurate representation of what your videos, podcasts, and more will sound like is crucial to creating great content.
1/8" to stereo RCA cable

1/8" to 1/8" cable
Speaker wire (for connecting main speaker to the other)
Pro Tools | First recording software and Mackie exclusive Musician Collection plugin bundle
Professional studio-quality sound
Sleek cosmetics
Flexible Inputs - 1/4", RCA, 1/8"
Front panel Power/Volume control
Front panel headphone output
50 watts of clean, articulate stereo sound
Samson SR350 - Over-Ear Stereo Headphones
Hear the Difference.
Samson's SR350 Stereo Headphones provide quality bass performance and excellent sound isolation in a lightweight, over-ear design. The wide cushioning on its earpads and adjustable headband provide serious comfort, while a low-profile fit makes the SR350s ideal for everything from home listening to fitness applications.
Ear Bud Upgrade
The SR350s are a solid introduction to the superior audio quality provided by over-ear headphones. They make an excellent gift for the music lovers still using their supplied smartphone ear buds.
Sound with Style
The SR350 are carefully contoured to the shape of the head for a secure, yet attractive fit. It's a look that works with any outfit or occasion you can think of.
Lightweight Listening
Featuring all lightweight components, the SR350s are ideal for a mobile lifestyle. Perfect for a variety of fitness and travel applications, these headphones offer hours of ultra-portable, fatigue-free listening for even your longest listening sessions.
Features
Lightweight design ideal for music recording, practice and listening
Powerful audio performance
Over-ear, closed back design with cushioned ear cups
35mm drivers with rare earth magnets
Adjustable padded headband
20Hz–20kHz frequency range
1/4" adapter included
Pro Tools Intro Recording Software
The desire to create, record, edit, and produce music has never been greater. New musicians, producers, and creators scour the web, their preferred music shops, and wherever they can to discover, learn, and try different applications and music tools. For many users, Pro Tools inevitably rises to the top of wish lists, as creators aim to learn and use the same tools as their favorite artists. To help creators on their journey, Avid is pleased to welcome the all-new Pro Tools Intro to the Pro Tools family. Pro Tools Intro allows hobbyists or anyone who might be new to producing music with a DAW the ability to discover all that Pro Tools has to offer, free of charge. Users can create beats, record performances, and have fun making music, while learning and discovering what makes Pro Tools the tool of choice of music and audio professionals the world over. Let's take a deeper look at Pro Tools Intro, see what's included, and how to get it.
Pro Tools Intro provides all the essential audio and MIDI tools you need, along with a core set effect and virtual instrument plugins. This IS Pro Tools… its stellar audio engine, workflows, and many of its core features. While all subscriptions and trials for Pro Tools utilizes the PACE iLok copy protection system via a physical iLok or iLok Cloud, Pro Tools Intro leverages a disk-based authorization, making it easy to manage without the need for an iLok.
Features
8 Audio Tracks (Stereo or Mono)
8 Instrument Tracks
8 MIDI Tracks
4 Aux Tracks (shares with Routing Folders)
1 Master Track
4 Routing Folders (shares with Aux Tracks)
2,000 Basic Folders
4 Simultaneous Inputs and Outputs
32-bit floating point processing
Up to 192 kHz sample rate recording and playback
1,024 Voices
35 Core Avid Plugins
Xpand!2 Virtual Instrument (with over 2,500 presets)
Avid Loopmasters Sample Pack
EUCON Control Protocol Support
Clip FX (playback only)
Support for any Core Audio, ASIO, or WASAPI-compatible interface
Minimum System Requirements
Mac:
macOS 10.14.6, 10.15.7, 11.6, 12.3 (PT 2021.12 and later with 2022.2 Plugins)
(please find version specific qualifications in the macOS Compatibility Grid below)
Pro Tools Intro - M1 or Intel® Core 2 Duo Processor (i5 or faster recommended) with 8 GB RAM
Pro Tools Artist & Studio - M1 (see computer specifications below) or Intel® Core i5 processor
Pro Tools Ultimate/Flex - M1 (see computer specifications below) or Intel® Core i5 (specific models only) or Intel® Core i7 processor 
16GB RAM (32GB or more recommended)
Internet connection for installation
15GB disk space for installation
PCIe slot for HDX or HD Native card (incl. one power connection on motherboard),
Thunderbolt port for supported PCIe-chassis or HD Native Thunderbolt
USB port, FireWire port or Thunderbolt port for CoreAudio-supported audio device
Pro Tools | Ultimate 2021.12 and earlier requires a Pro Tools DigiLink I/O license to access HD hardware. Pro Tools 2022.4 and higher now has this license is built into the software so the separate DigiLink I/O is not necessary.
Windows:
Intel® PC Windows 10 & 11 Home, Pro, and Enterprise 64-bit Editions
(please find version specific qualifications in the Windows OS Compatibility Grid below)
Windows 10 & 11 for Workstations supported on Intel® Xeon processor-equipped machines
Pro Tools Intro - 64-bit Intel® Core Processor (i3/2 Ghz or faster recommended) with 8 GB RAM
Pro Tools Artist & Studio - Intel® Core i5 processor
Pro Tools Ultimate/Flex - Intel® Core i9 or Intel® Xeon processor 
16GB RAM (32GB or more recommended)
Internet connection for installation
15GB disk space for installation
PCIe slot for HDX or HD Native card (incl. one power connection on motherboard)
USB-port, FireWire-port for ASIO-supported audio device
Compatible NVIDIA graphics card (see machine-specific Slot Order & Configuration pages linked below for tested NVIDIA card models)
Pro Tools | Ultimate 2021.12 and earlier requires a Pro Tools DigiLink I/O license to access HD hardware. Pro Tools 2022.4 and higher now has this license is built into the software so the separate DigiLink I/O is not necessary.
Studio One Artist
Creative Music Production Environment
Studio One is a completely modern professional environment for music recording, mixing, mastering, sharing, and collaboration. It's Internet-savvy and provides a complete solution, combining the features you really need with the ease of use you always dreamed of. Based on an elegant user interface and a content browser with powerful drag-and-drop functionality, feature-rich Studio One will let you work quickly and stay focused on your inspiration.
Studio Magic Plug-in Suite
This suite of plug-ins adds a wealth of fresh virtual instruments and effects to Studio One. Cherry-picked from the first names in virtual instruments and effects, each plug-in brings a different flavor of practical magic to your songs. These plug-ins aren't gimmicky one-trick ponies - these are real-deal workhorses that you'll rely on for countless mixes.
THIS BUNDLE IS IN LIMITED SUPPLY! GRAB YOURS TODAY AND START RECORDING LIKE A PRO!
An email will be sent to your eBay contact email address with a download link after purchase
Payment & Security
Your payment information is processed securely. We do not store credit card details nor have access to your credit card information.