Roll over image to zoom in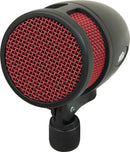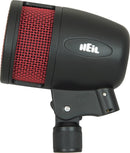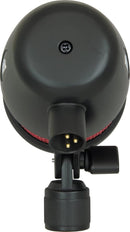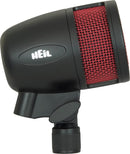 Description
Overview
The Heil PR 48 kick drum microphone is the end-result of what happens when you start with the finest kick drum microphone components…listen to what your customers want based on real-world drumming conditions, and put it all together. Heil incorporates suggestions from some of the best drummers and drum & sound technicians in the world into the PR 48. That and two years of "in the field" research refining these suggestions, yields the PR 48, ready to take on any kick drum.
The PR 48 contains a large vulcanized double shock-mounted diaphragm element, impervious to external vibration and noise. The PR 48 also has our best rear noise rejection, and excellent (148 db) SPL handling; all housed in a solid flat black emron steel body with red screens on an adjustable swivel-mount. Heil adds passive internal low pass filters to create rises in the frequencies where the kick drum's sound benefits most. The kick beater is also represented like never before in the mix through this filtering. This is a great rock kick drum mic, but also is at home serving country, jazz, funk, blues and metal drummers with a kick drum sound that has no equal.
While some kick drum microphones judge themselves by how well they can handle EQ; how about a kick drum mic that sounds fantastic with NO EQ! As a finishing touch, the PR 48 has a 45 degree angle XLR plug to allow for easier XLR connecting during setup. The PR 48 can be purchased separately, or in the HDK drum kit series, (HDK-5, HDK-7 and HDK-8), and is available with a variety of microphone mounting options.
With the PR 48 you get the built-in metal swivel mic stand mount connected.
Specifications:
Output Connection: 3 pin XLR
Element Type: Dynamic
Frequency Response: 30 Hz – 8.5 kHz
Polar Pattern: Cardioid
Rear Rejection @ 180 degrees off axis: -40 dB
Impedance: 250 ohms balanced
Output Level: -59 dB @ 1 kHz
Weight: 20.33 oz
Max SPL: 148 dB
Payment & Security
Your payment information is processed securely. We do not store credit card details nor have access to your credit card information.