Roll over image to zoom in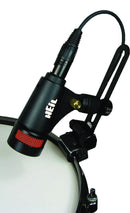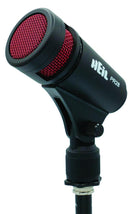 Description
Overview
The Heil PR28 microphone is made specifically for toms, and snare drums along with other percussion instruments like bongos, conga, timbale, djembes and more. However, the PR28 is suitable for other uses as well where a wide frequency range and immaculate isolation is desired.
Heil Sound engineered the PR28 with a dual suspension dynamic element to eliminate unwanted vibrations and noise, even in the most extreme settings; like when placed above or beneath drums with close proximity monitors, bass cabinets and other sound sources. In fact, the PR28 dutifully isolates the target drum from neighboring drums just inches away, with precision and ease.
The PR 28 has the ability to withstand very high SPLs, meaning it can bring out the best in even the hardest hitting drummers without overload, or bleed-through. When coupled with the optional (patent-pending) HH-1 Mount, it will easily mount and remain exactly where you need it on the drum.
Features:
Output Connection: 3 pin XLR
Element Type: Dynamic
Frequency Response: 55 Hz – 18 kHz
Polar Pattern: Cardioid
Rear Rejection @ 180 degrees off axis: -35 dB
Impedance: 600 ohms balanced
Output Level: -51 dB @ 1 kHz
Weight: 9.6 oz
Max SPL: 142 dB
Payment & Security
Your payment information is processed securely. We do not store credit card details nor have access to your credit card information.