Roll over image to zoom in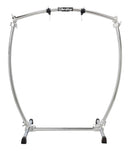 Description
Overview
Hang your gong in style with Gibraltar's chrome series curved gong stand. Made with curved bars and chrome clamps, this heavy duty stand can hold up to a 40″ gong, and is designed to replace the traditional square, black gong stand. Whether you are using it in an orchestral, percussion, or drum set situation, you can be sure that this rock solid stand will not only support your gong, but will elevate your stage presence.   
Features:
Sleek, curvy and elegant 
Use in orchestral, percussion and drum set situations 
Heavy duty, works with gongs up to 40-inches 
Memory locks to ensure precise positioning 
Parts included:
(2) 30-inch T legs for stability
(2) 46-inch curved vertical bars
(1) 46-inch curved upper cross bar
(1) 36-inch straight lower cross support
(4) GCRQT Chrome T clamps
(2) GCARA chrome adjustable T clamps
(5) GCML chrome slip-on memory locks (2pk)
(2) GRGSM gong "S" mounts
Rubber feet for T 30-inch T legs
Payment & Security
Your payment information is processed securely. We do not store credit card details nor have access to your credit card information.