Roll over image to zoom in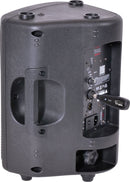 Description
Overview
The Galaxy Trek violin pick up mic is a wireless instrument microphone that delivers quality wireless audio to numerous "on the go" applications.
The GT-INST-6 portable, wireless small stringed instrument mic is a lightweight, high fidelity clip on violin microphone that features a flexible shockproof bracket for use with violins, fiddle and viola. The omni-directional condenser capsule is designed to reproduce nuanced authentic natural sound. The included soft rubber bracket offers secure and easy attachment while absorbing vibration and preventing damage to the instrument finish.
In today's cyber world, we use our smartphones for everything; gaming, social media, news updates, shopping, pictures, and video. Getting rich, clear, articulate audio while recording video can be especially difficult when the microphone is not in close proximity to the presenter. The Galaxy Trek wireless transmitter, transmits seamlessly to the included wireless receiver, which simply plugs into the 3.5mm headphone jack of your smartphone, delivering quality audio to your video recording. 
The Galaxy Trek receiver will also plug directly into most powered speaker inputs (1/8" & 1/4"). This conveniently adds a wireless violin microphone to most powered speakers. Teachers, videographers, live streamers, presenters, street performers, among many others will find the violin pickup mic features a plus.
The Galaxy Trek wireless clip on violin microphone is powered by long-lasting internal lithium batteries located in both the transmitter and receiver. Charging is quick and easy with the included micro USB cable. The system also includes two adapter cables for both Android and Apple iOS smart devices.
Features:
2.4GHz Wireless Transmission
Compact Light-Weight Design
Easy Set Up
Frequency Response: 196Hz – 12kHz
Omni-Directional Condenser Microphone
For Use With Small Stringed Instruments: Violin/Fiddle, Viola
50 ft Operating Range
6 Hours Battery Life
Specifications:
Frequency Range: 2.4GHz Frequency Hopping
Frequency Response: 20Hz - 20KHz
Pairing: Auto-Match
Included Accessories: Detachable Belt Clip, Cell Phone Adapter Cables (Black-iPhone and Red-Android), 1/8" to 1/4" Adapter, USB Charging Cable, 19.7" Female to Male Extension Cable, Windscreen, Rubber Shock Bracket
VIOLIN MICROPHONE
Mic Diameter: 0.1" x 0.24" (2.7 x 6 mm) (LxDia.)
Polar Pattern: Omni-Directional
Sensitivity: -46dB ±2dB
Frequency Response: 196Hz - 12kHz
Standard Operating Voltage: 2.0V - 10V.DC
Signal to Noise Ratio: >58dB
Impedance: ≤680Ω
GT-TINST6 TRANSMITTER
Controls: On/Off Power Switch, Volume Control
Battery: Lithium-Ion Rechargeable
Input: Mini USB for Charging
Indicators: Power and Pairing
GT-R RECEIVER
Controls: On/Off Power Switch
Battery: Lithium-Ion Rechargeable
Input: Mini USB for Charging
Output: 3.5mm Stereo Output Plug
Indicators: Power and Pairing
Payment & Security
Your payment information is processed securely. We do not store credit card details nor have access to your credit card information.