Roll over image to zoom in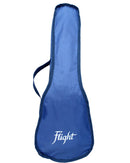 Description
Overview
Flight Travel Ukuleles have proven to be one of the best and most robust ukuleles that you can purchase, and Flight continues to expand the number of choices that are available in the series. The Flight TUS35 features a body built unapologetically from plastic and a laminate linden top. The sound quality of these ukuleles will blow you away, and they are wonderful instruments for players of any level. Players that start with a TUS35 will never outgrow the ukulele, because it can transition from the role of "first" ukulele to its natural role as a "travel ukulele."
Body
Body Shape: Soprano (15 frets)
Top: Laminate Linden
Back & Side: ABS
Bridge: ABS
Color: Green
Strings: Aquila Nylgut
Strap Button: Yes
Neck
Neck: ABS
Fretboard: ABS
Nut & Saddle: ABS
Nut Width: 35.6mm
Other
Position Markers: 5th, 7th, 10th and 12th frets.
Premium Features: Aquila Strings, Strap Button, Zero Fret, Wooden Top, Arched back, Open Geared Tuners, ABS Fretboard, Side Position Markers.
This instrument is also available in various colors.
Payment & Security
Your payment information is processed securely. We do not store credit card details nor have access to your credit card information.