Roll over image to zoom in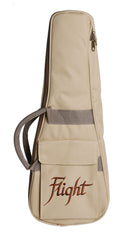 Description
Overview
Larger in scale length and body, the tenor ukulele possesses a real versatility when played. Sporting up to 19 frets, a tenor can employ an increased range of play that some guitarists would otherwise miss when migrating to the ukulele. The tenor fretboard is a real playground for chord inversions and other tricks. Indeed, tenors with their increased volume and sustain are often the choice of Hawaiian soloists and other notable players.
Thanks to its warm sound, low maintenance, and flawless intonation, the DUT34 is the perfect instrument for a beginner and seasoned players alike. Flight believes that when you buy your first uke, it should serve you well for the first few years of learning at least and beyond. In 2019 they have completely redesigned this model, changing the headstock and bridge shape, as well identifying choice woods to build this attractive and fantastic sounding ukulele.
Mahogany is a hardwood which has been used to make quality musical instruments for centuries. Its color can vary a fair amount, from a pale pinkish brown to a darker reddish brown, and it tends to darken with age. Do not let the "sober" look of mahogany fool you, though – mahogany ukuleles, especially those fitted with an arched back, know how to growl!
The neck and fingerboard of the DUT34 are made from African okoume and techwood. Techwood is a composite wood used by many luthiers. Flight is a great believer in using the right material for the job and has no hesitation in using composites where they feel it will bring the highest quality to the instrument as well as contribute to global sustainability.
The bridge is completely redesigned to make it more attractive and stable. The nut and saddle of DUT34 are made of high-quality plastic material.
Most of serious ukulele brands use passive piezo pickup, which is why Flight decided to shift from using EQ system to passive piezo. It makes the ukulele lighter and more balanced, eliminates the unwanted string rattle and provides as a strap button...What more can you ask for?
Headstock design is an integral part of Flight's identity. All Flight ukuleles feature a carefully-designed headstock fitted with geared tuners that will always stay in tune.
Light and stylish, yet offering excellent protection for your ukulele, Flight gigbags have already become legendary and with one hanging off your shoulder you will definitely make heads turn.
Specs
Body Shape: Tenor (18 frets) 

Top: African Mahogany 

Back & Side: African Mahogany 

Bridge: Techwood   

Neck: African Okoume 

Fretboard: Techwood 

Nut & Saddle: Quality Plastic 

Nut Width: 38mm   

Position Markers: 5th, 7th, 10th, 12th and 15th frets. 

Premium Features: Arched back, Open Geared Tuners, Laser Engraved Rosette, Quality Strings, Side Dots.   

Free padded gigbag and instructional booklet included! 

 
Dimensions: 28.0" L x 12.0" W
Payment & Security
Your payment information is processed securely. We do not store credit card details nor have access to your credit card information.