Roll over image to zoom in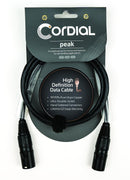 Description
Overview
Our data cable CSE NN 5 is based on our especially robust and flexible bulk cable CCAT 5e thus making the cable absolutely roadworthy and even suitable for drag chain use. By default, it is equipped with NEUTRIK® etherCON metal housing NE8MX-B-1 connectors and HIROSE® RJ45 network connectors. Transparent shrink-on tubes on both cable ends simplify individual labeling.
Part of the Peak series, our High-Copper series cables boast the highest copper content of any comparable brand. More copper means more of your original signal passes through the cable without compromise, so your highs remain brilliant, your mids stay razor-focused, and your lows thump the way you do – even over long distances. You put your all into your music and your tone. Shouldn't you be using cables that can deliver it?
High-Copper cables include all the features of Peak series cables, plus:
Largest diameter copper conductor cores on the market, typically 3x standard cables
Exceptional linearity and frequency response
Ideal for long-run applications; pure signal transmission up to 50 ft.
Payment & Security
Your payment information is processed securely. We do not store credit card details nor have access to your credit card information.