Roll over image to zoom in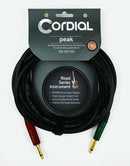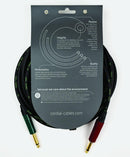 Description
Overview
The resilience of the Cordial "ROAD" line cables is legendary and experts consider the CRI PP to be an almost indestructible guitar cable. So, what could be more obvious than adding a supplementary benefit to the extreme tour-suitability of Cordial's long-lasting favorite and offer you this new variant?
Equipped with the famous red SILENT plug, the CRI PP SILENT is not only great to handle on stage, but also prevents annoying amplifier crackling and humming when changing instruments while the amp volume is turned up – an especially beneficial attribute when playing Live gigs. CRI PP-SILENT – the Cordial stage monster for guitar and bass players.
Part of the Peak series, our High-Copper series cables boast the highest copper content of any comparable brand. More copper means more of your original signal passes through the cable without compromise, so your highs remain brilliant, your mids stay razor-focused, and your lows thump the way you do – even over long distances. You put your all into your music and your tone. Shouldn't you be using cables that can deliver it?
High-Copper cables include all the features of Peak series cables, plus:
Largest diameter copper conductor cores on the market, typically 3x standard cables
Exceptional linearity and frequency response
Ideal for long-run applications; pure signal transmission up to 50 ft.
Payment & Security
Your payment information is processed securely. We do not store credit card details nor have access to your credit card information.