Roll over image to zoom in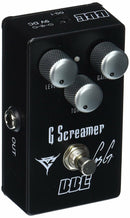 Description
BBE G Screamer OG-1 Gus G Signature Overdrive Guitar Effects Pedal
Overview
The music of Gus G and his band Firewind can be described as melodic, soaring and punishing - in short, metal masterpieces. But just as Gus is shaping the bleeding edge of metal, he is deeply passionate about its roots, as evidenced by his scoring the coveted gig as guitarist for Ozzy Osbourne.
Gus' gear reflects his passion, inspired by the classics and updated for a new level of sophistication and musical expression. BBE stompboxes share his ethos, born out of respect and appreciation for the classics while pushing forward, evolving the breed. Gus' new G Screamer signature overdrive is a thundering example. For years, the BBE Green Screamer was Gus' overdrive pedal of choice. But working closely with BBE's legendary mastermind Paul Gagon, Gus has now dialed in his tone still more, for solos that power his vision for the modern metal realm:
"BBE's Green Screamer is the one pedal I always had to have with me. When I'm soloing, the Green Screamer gives me that extra kick I need, a great combination of meaty gain and harmonics that drive my amp's tubes harder for a really thick, punishing tone. But it's not just an old school wall of distortion. It's complex and sophisticated, never ragged."
The Green Screamer was working great for me, but I had ideas about how to make it even better for my tone. Paul Gagon and I collaborated and we modified the input driver to the distortion circuit so that more lower-mid harmonics are focused where I want them. Now my new G Screamer pedal lets me drive even more harmonics, and they're focused right where I need them to be for a cleaner, tighter distortion. The G Screamer delivers explosive power with precision. It's my new weapon.
Features:
Gain, level and tone controls
Modified classic sequential-diode distortion circuit for focused tone
1mOhms input impedance for proper pickup loading
10kOhms output impedance when engaged
1% metal-film resistors for consistency
High-voltage poly caps for better tone
Military-spec circuit board for reliability
Blue status LED for high visibility and low-power consumption
Easy access battery compartment
True hardwire bypass
Payment & Security
Your payment information is processed securely. We do not store credit card details nor have access to your credit card information.