Roll over image to zoom in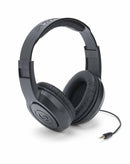 Description
NOW AVAILABLE! EXCLUSIVE SWEETHEART DEALS 
LET'S GET STARTED RECORDING BUNDLE! 
Everything you need in one box to start recording. The MOST Affordable Recording Bundle for the Holidays!
Industry's leading recording Software FREE:
PRESONUS STUDIO ONE PRIME
LIMITED QTY'S AVAILABLE
Overview
PreSonus AudioBox GO: ultra-affordable, compact 2x2 USB audio interface
Create right away!
Ultra-affordable, surprisingly powerful, and small enough to fit in your pocket, AudioBox GO™ gives you all the connections you need to record on the move or in your home studio. Whether you're recording a guitar riff at rehearsal or a full-length solo album in your bedroom, you'll have all the tools you need to create like a pro, right from the start. Compatible with both computers and mobile devices, the AudioBox GO is perfect for anyone who wants to get started recording fast.
Studio One® Prime and the Studio Magic software bundle for Mac® and Windows® are also included, so your new recording studio will be up and running right out of the box. With AudioBox GO , you can record wherever sound takes you and make recording the adventure that it should be.
Connect anything and sound great.
The AudioBox GO™ features a PreSonus® XMAX-L preamp, designed with over 25 years of recording-studio knowhow. Not only does it ensure that your recordings will sound clean and articulate with low noise, it also provides 50 dB of gain and +48v phantom power for professional XLR condenser microphones. The combo jack doubles as a line-level input that you can use to record keyboards, drum machines, and more! A dedicated Instrument input lets you connect an electric guitar or bass, so you can record guitar and vocals at the same time.
Small is beautiful.
True to its name, the AudioBox GO™ is so powerful and loaded with features, you'll want to take it with you everywhere — so we made it small enough to toss into your guitar case or your laptop bag. AudioBox GO works great with Android and Apple mobile devices — but also with both laptop and desktop computers, making it an ideal interface for small home studios. It's USB class-compliant, so there are no special drivers or applications for you to download and install. And because it's bus-powered, there's no power supply to fuss around with.
Loud and clear.
The AudioBox GO™ lets you connect professional studio monitors like the PreSonus Eris-series to its balanced Main outputs, while also providing a surprisingly powerful Headphone output that lets you listen in loud and clear. You also get an easy-to-use Mix control to create a monitor mix by blending the audio from your hardware inputs and your software so you can record vocals while listening to the tracks you've already recorded and stay inspired.
World-class recording software included.
While the AudioBox GO™ audio interface works with virtually all macOS® and Windows® audio-recording software, it comes with a free license for Studio One® Prime, giving you a complete recording solution. Built by creative people for creative music production, Studio One is easy to learn and enables you to compose, record, and produce your masterpiece without getting distracted by the tools. And when you're ready to hit the road, download Capture Duo for free and enjoy two-track recording on the go.
Features
Ultra-affordable, ultra-compact, versatile USB-C® compatible audio interface for home and mobile recording with professional sound quality
Recording Software included: Get started right away with Studio One® Prime DAW recording software and Studio Magic software bundle including music tutorials, tons of sound samples and virtual instruments.
Bus-Powered: AudioBox GO is powered by your connected USB-C® device so no need for an additional power supply – works great with both Apple® and Android™ devices.
Connect an instrument and a microphone at the same time: 1 TS instrument input to record guitar or bass and 1 XLR mic/line combo input to record vocals or a keyboard, drum machine, or other line-level instrument.
Headphone Connection: 1 TRS 1/4" stereo headphone output with mix control lets you create a custom blend between your inputs and playback so you can monitor your recording with zero latency.
Speaker Connections: 2 balanced TRS 1/4" main outputs for studio monitors or speakers.
Professional Audio Quality: Studio-grade converters allow for up to 24-bit/96 kHz recording and playback assuring the highest quality possible.
Professional XMAX-L Mic Preamp: Your microphone will sound its best thanks to this custom low-noise, high-headroom design with 50 dB of adjustable gain and switchable +48V phantom power for professional XLR condenser mics
Specifications
| | |
| --- | --- |
| Microphone Preamp | |
| Type | XLR female, balanced (via Combo connector Input 1) |
| Frequency Response (±3.0 dB) | 20 Hz to 20 kHz |
| Input Impedance (Balanced) | 1.4kΩ |
| THD+N (unwtd, 1 kHz @ +4 dBu Output, Unity Gain) | < 0.004% |
| Gain Control Range (± 1 dB) | 50 dB (0 dB to +50 dB) |
| Max Input Level (Unity Gain, 1 kHz @ 0.5% THD+N) | +10 dBu (± 0.5 dBu, min gain) |
| Phantom Power (±2 VDC) | +48 VDC (±2 VDC) |
| | |
| --- | --- |
| Line Input | |
| Type | ¼" TS female, balanced (via Combo connector Input 1) |
| Input Impedance | 750 kΩ |
| Max Input Level | +19 dB |
| Gain Control Range | 50 dB (-20 dB to +30 dB) |
| | |
| --- | --- |
| Instrument Input | |
| Type | ¼" TS female, unbalanced (Input 2) |
| Input Impedance | 750 kΩ |
| Max Input Level | +13 dB |
| Gain Control Range | 50 dB (0 dB to +50 dB) |
| | |
| --- | --- |
| Line Outputs | |
| Type | ¼" TRS female, impedance balanced |
| Frequency Response | 20 Hz to 20 kHz, +/-0.2 dB |
| Output Impedance | 51Ω |
| THD+N (1 kHz, 20 kHz BW, A-wtd) | <0.007% |
| | |
| --- | --- |
| Headphone Output | |
| Type | ¼" TRS active stereo |
| Maximum Output | 30 mW/ch. @ 60Ω Load |
| Frequency Response (±1.0 dB) | 20 Hz - 20 kHz, +- 0.5 dB |
| THD+N (1 kHz, max gain, 20 kHz BW, A-wtd) | <0.08% |
| S/N Ratio (1 kHz, max gain, 20 kHz BW, A-wtd) | 90 dB |
| | |
| --- | --- |
| Digital Audio | |
| Connection Type | USB 2.0 over USB-C® compatible connection |
| ADC Dynamic Range (A-wtd, 48 kHz Sample Rate) | 90 dB |
| DAC Dynamic Range (A-wtd, 48 kHz Sample Rate) | 102 dB |
| Bit Depth | 24 |
| Reference Level for 0 dBFS | +10 dBu |
| Supported Sample Rates (kHz) | 44.1, 48, 88.2, 96 |
| | |
| --- | --- |
| Physical | |
| Height | 1.73" (44 mm) |
| Depth | 3.3" (84 mm) |
| Width | 4.25" (108 mm) |
| Weight | 0.51 lb (0.24 kg) |
macOS®
macOS version 10.13 or later
200 MB storage space and 4 GB RAM for Universal Control (required for firmware updates)
Available USB port
Windows®
Windows 10 or later (64-Bit Only)
200 MB storage space and 4 GB RAM for Universal Control (required for firmware updates and low-latency ASIO support)
Available USB port
MS1813 Studio Condenser Microphone
Wide frequency: the response makes it a perfect microphone for recording voices, acoustic guitars, acoustic pianos and even strings, since the capacitor can take an accurate snapshot and capture all the subtleties and nuances inherent in these instruments. Excellent in both voices and instruments.
Low noise level: with a high signal-to-noise ratio (SNR), which ensures that the recording process is less distorted, the exclusive 3-layer security system eliminates unwanted pop noises, providing singers with a smooth vocal sound without sound.
Sensitive capture: the microphone has a thin diaphragm or material "capsule" that vibrates and sends a signal when activated and hit by sound waves at the output, providing an extremely accurate and very precise representation of what is being played.
Plug and Play: you can easily connect the microphone to your device without additional driver software and without the need for an external sound card. The double shielding of the USB cable eliminates interference. This makes it easy for a podcast, live stream, video call or most other types of recording sound good.
Improve the quality of vocal recording: the podcast microphone gives you a clear and plosivity-free vocal output with a double-layer acoustic filter and windproof foam cover to prevent it from breaking.
All you need for Professional Broadcasting and Recording
1x Studio Vocal Cardioid Condenser Microphone
ABS Composite Shock Mount
Wind filter
Desktop Round Base stand
High Quality audio circuit design Plug and Play, Record, Broadcast and more
Dimensions (unit is on tripod stand):11.5 cm/4.52 inches WIDE x 33 cm/ 13 inches HEIGHT
Net weight: 1.6 lbs (0.75 kgs for the 5 pcs unit)
Samson SR350 - Over-Ear Stereo Headphones
Hear the Difference.
Samson's SR350 Stereo Headphones provide quality bass performance and excellent sound isolation in a lightweight, over-ear design. The wide cushioning on its earpads and adjustable headband provide serious comfort, while a low-profile fit makes the SR350s ideal for everything from home listening to fitness applications.
Ear Bud Upgrade
The SR350s are a solid introduction to the superior audio quality provided by over-ear headphones. They make an excellent gift for the music lovers still using their supplied smartphone ear buds.
Sound with Style
The SR350 are carefully contoured to the shape of the head for a secure, yet attractive fit. It's a look that works with any outfit or occasion you can think of.
Lightweight Listening
Featuring all lightweight components, the SR350s are ideal for a mobile lifestyle. Perfect for a variety of fitness and travel applications, these headphones offer hours of ultra-portable, fatigue-free listening for even your longest listening sessions.
Features
Lightweight design ideal for music recording, practice and listening
Powerful audio performance
Over-ear, closed back design with cushioned ear cups
35mm drivers with rare earth magnets
Adjustable padded headband
20Hz–20kHz frequency range
1/4" adapter included
Presonus Studio One 6 Prime Recording Software
Have you heard? Studio One 6 Professional - along with every single Studio One Add-on, the complete collection of PreSonus plug-ins, and dozens of inspiring content libraries - is now included with your PreSonus Sphere membership… get it all at an amazingly affordable price. 
Studio One Prime provides everything you need to get started in content creation and audio production for the low, low cost of $0 USD. Create your own music and podcasts as intuitively as possible with a single-window, drag-and-drop workflow that will make you wonder why you put up with other software that isn't designed the same way. 
Studio One Prime is designed to keep you in the creative flow by providing powerful tools that help you when you need them—and stay out of your way when you don't. You'll supercharge your creativity with its unlimited tracks, buses and a powerful complement of virtual instruments and native effects that sound just as good (and frequently, better) than third-party effects. 
Guitarists will love the new third-generation Ampire tech that has the most realistic amp and cabinet simulations we've ever made. Fans of EDM and hip-hop will appreciate Studio One's Pattern Editor, which allows for intuitive drum and melody composition via a familiar drum-machine inspired UI, which might be just about the most fun and rewarding music-creation technique out there. 
Only Studio One 6 Prime lets you truly create without boundaries—for free. And when you're ready for more features, we make it easy to move up to Studio One Artist, Studio One Professional, or get it all with PreSonus Sphere… right from the Upgrade button in Studio One Prime.
System Requirements
macOS
Windows
FREE
Record, produce, and mix easily, all from a single, intuitive application
Intuitive single-window work environment with quick and easy drag-and-drop functionality and multi-touch support
Unlimited audio and instrument tracks, virtual instruments, and FX channels
Powerful Presence XT virtual sample-player for keyboard and synth sounds
Patterns allow for intuitive drum and melody composition via familiar drum machine/step-sequencer style UI
NEW! Completely redesigned Native Effects plug-in suite.
NEW! Poly Pressure/ MPE support for advanced MIDI controllers
Over 2 GB of bundled loop and musical content to inspire you from day one
*Studio One 5 is only supported on 64-Bit operating systems. *

macOS® 10.13 or higher (64-bit only)
Intel® CoreTM i3 processor or better
4 GB RAM minimum (8 GB or more recommended)
Internet connection (needed for installation and activation)
Monitor with 1366 x 768 resolution (Retina display recommended)
A multi-touch enabled monitor with TUIO support is required for touch operation
10 GB hard-drive space

Windows 10 (64-bit only)
Intel® CoreTM i3 / AMD A10 processor or better
4 GB RAM minimum (8 GB or more recommended)
Internet connection (needed for installation and activation)
Monitor with 1366 x 768 resolution (high-dpi monitor recommended)
A multi-touch enabled monitor is required for touch operation
10 GB hard-drive space
A great gift idea for the aspiring songwriter, musician, producer or podcaster in your life!
This will get them off of the video games and into creating something that might actually make money someday! Imagine that!
Payment & Security
Your payment information is processed securely. We do not store credit card details nor have access to your credit card information.